This Week from Village Walk: Let's Go Undercover
We had to dodge the showers, gales – and even a bit of sleet – this week to take some great shots for our update. Let's not mention the weather again, because it is obviously broken!
Instead, let's talk about Village Walk! Where our construction team has been working double-time to make sure all 9 of our new build properties have a completed roof! That's right guys, it's time for us to go undercover at our new build homes in Studley. Yay!
We're Going Undercover
These pictures were taken inside Plot 2, looking up at the brand new roof! Plots 1 and 2 are the first of the 9 properties to be made watertight so the interiors can begin to take shape too!
As you can see here, the internal partitions are now being placed so we can get a really great idea of how the properties are going to look inside! Amazing!
It might look a little bit like a jail cell now, but these walls will soon be filled in, and transformed into a fabulous living room, kitchen, dining area, and downstairs toilet!
Check out this fabulous new staircase and upstairs space too! We can't wait to show you the next stage soon!
Sparks are flying (almost!)
Elsewhere on-site, we have been confirming the electrical connection points for each property and the positions of the plumbing connections ready for the utility companies to begin their work in the next few weeks.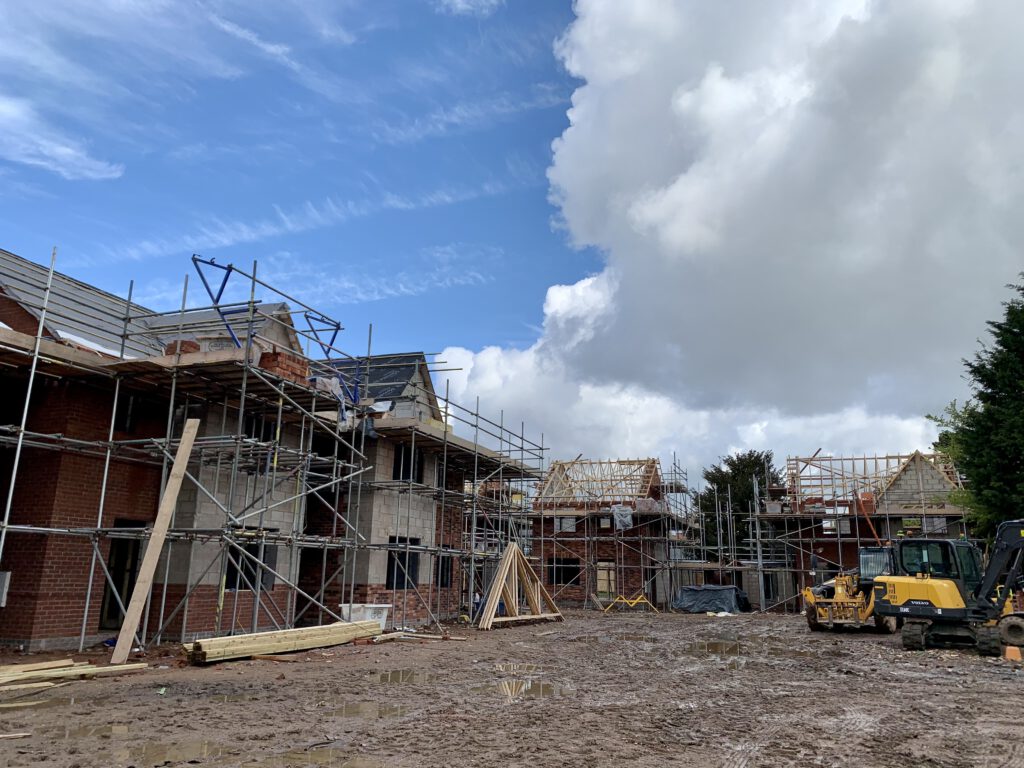 Plots 9, 8, 7, and 6 (on the left of the picture) and Plots 5, 4 and 3 (straight ahead, though 5 is just around the corner out of shot) are all shaping up well! The roofs of plots 9-6 are now covered and internal partitions are being placed with Plots 5-3 expected to be close behind in the next week.
That's All Folks!
That sums up our visit to VIllage Walk for this week, but we will be back very soon with more updates for you! Don't forget to join our mailing list to receive our blog updates – as well as advance notification on all of our new site releases straight to your inbox!
Catch up with you all soon!