This Week from Village Walk: We're Jumping for Joists!

Well, that escalated quickly! Every single one of our new homes in Studley has reached its full height! We took advantage of the clear, blue skies this week to pop to Village Walk with our camera and take a few progress shots for you to enjoy.
Plots 1 & 2
Plots 1 & 2 are in the lead so far. Both of these detached 3 bedroom homes are the first to greet you as you arrive on-site so we took a quick look around inside Plot 2 and guess what? We even found a staircase! (Just a temporary staircase for now so the builders can get upstairs more safely!)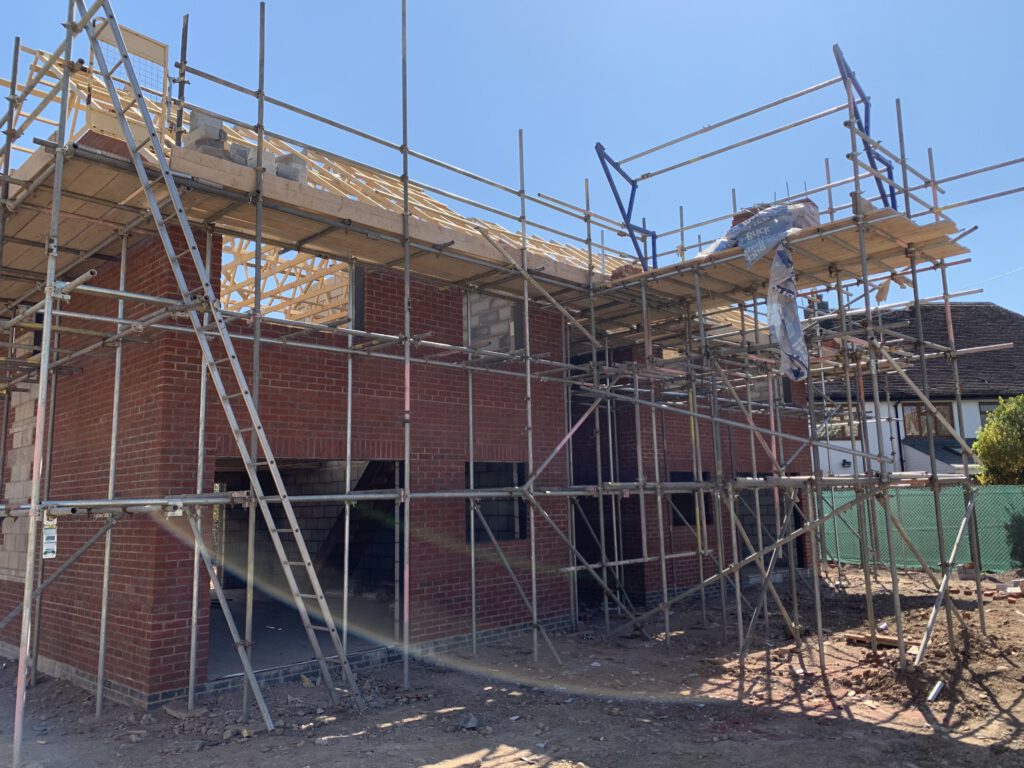 Being inside the houses gives you a real feel for their size and layout, and we just had to climb the stairs to have a look at the first floor too.
What was waiting for us upstairs? A clear view of the beautiful blue sky, and a chance to see the roof joists up close.
The images above show the gables of Plot 2 and the view from the first floor windows looking towards plots 6-9.
Plots 6, 7, 8, and 9
We had a wander over to Plots 6-9 next to see how they are coming along. Plots 9 and 8 are our semi-detached homes, sitting alongside 7 and 6 which are detached with 3 and 4 bedrooms respectively.
Plots 3, 4, and 5
The last of our new build homes are Plots 3, 4 and 5. This is a terrace of detached 3 and 4 bedroom homes, and we had a chance for an inside peek here too. We loved looking directly up at the steel and timber posi joists which form the first floor. They look pretty cool don't you think?
What's next?
The next stage for our new homes will be to complete the roofs, and we will of course have an update on that when it happens!
Make sure you don't miss a single update from us (including when we announce our latest new homes for sale) and subscribe to our mailing list – do it now before you forget!