From blessed foundations to happy homes: the final chapter of our Heron's View build
Every great story needs a perfect ending! Recently we were browsing through our previous blog posts that followed the story of our new build homes in Shirley, and we suddenly realised that we hadn't written the final chapter of our Heron's View story!
Back in March, the coronavirus lockdown meant that building work at Heron's View was bought to an abrupt halt. As the entire country was asked to stay at home, we were unable to continue building ours. The lockdown restrictions were slowly lifted but safety guidelines meant that visits to our Shirley site were no longer possible, and the build was completed without our weekly sneaky peeks.
Our seven new canal-side homes are now complete (huge thanks to the incredible efforts of Tricas Construction) but this story is not completely over! Our new homeowners are moving in, and at the time of writing this, we only have one more plot available!
But we couldn't end this new build journey without a fanfare (that just isn't the Kinglsea Homes way!) and we had to write one more build update to round it all off. So here goes.
It seems like a long time ago that we stood on an empty piece of land on Drawbridge Road in Shirley. After consulting closely with local homeowners we had purchased a strip of their incredibly long gardens which we knew would be ideal for the first collection of contemporary Kingslea Homes. We wanted our first new homes development to be incredible, and as soon as we spotted the land we knew it would work perfectly. Every good property developer has always got their eyes and ears to the ground searching for a new opportunity – it's a habit and a skill that comes with the territory!
After permissions were granted, the land was cleared, and the construction company was appointed, building began in earnest. We broke ground on 4 May 2019, and the work commenced!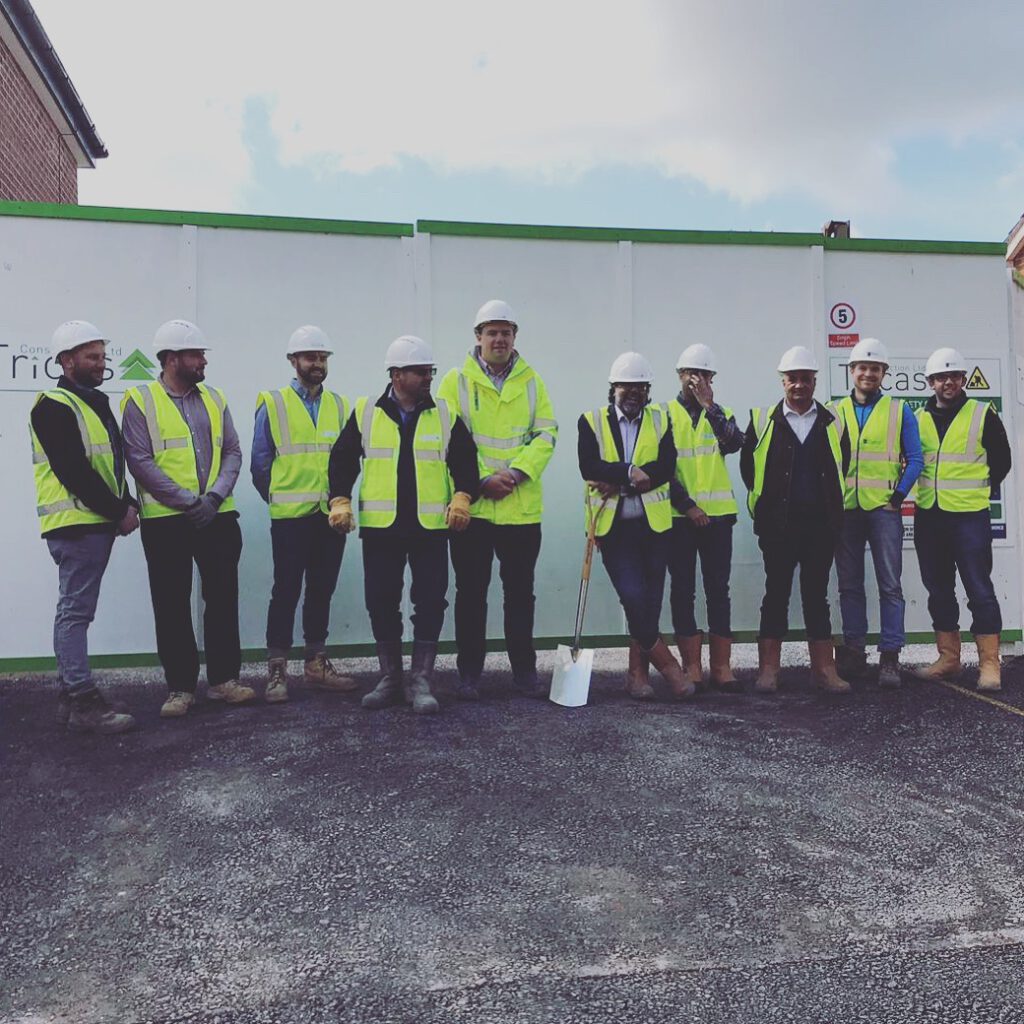 A key point in the journey was the reservation of Plot 1. Our new homebuyers were purchasing completely off-plan, and this meant they were able to make some key choices about their build from the beginning. A great day in their new build journey was blessing the foundations of their new home. As an independent property developer, we were only too happy to grant this wonderful request and so the first foundations were laid.
As the build progressed, we began our weekly visits to the site and it was amazing to see the progress of our contemporary homes as they came to life. Every visit bought a new surprise and we loved taking whacky pictures and videos to show how things were coming together.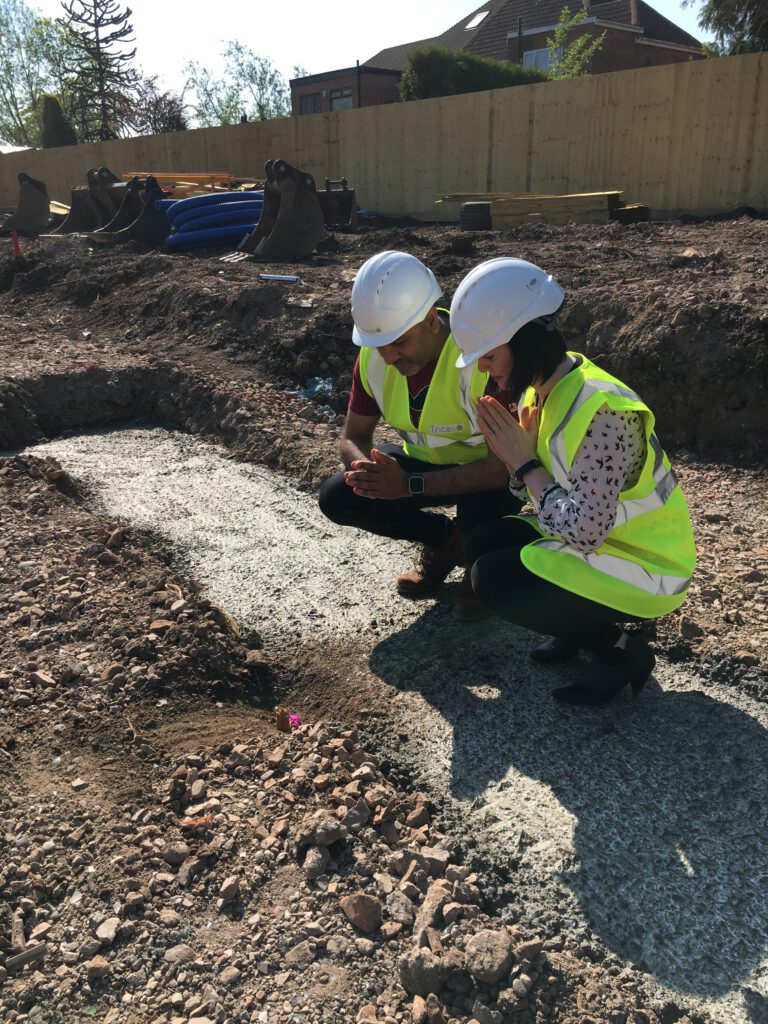 We learned about underfloor heating, plastering, and tiling. We squelched through mud and posed for funny pictures alongside excavators and drank endless cups of strong tea as we got our regular updates from the very patient site manager.
At Christmas we stuck elves inside the newly fitted integrated Neff ovens, and marvelled at the beautifully laid Porcelanosa floor tiles. We tested out bi-folding doors and newly fitted designer fireplaces, as the build progressed into a stormy New Year.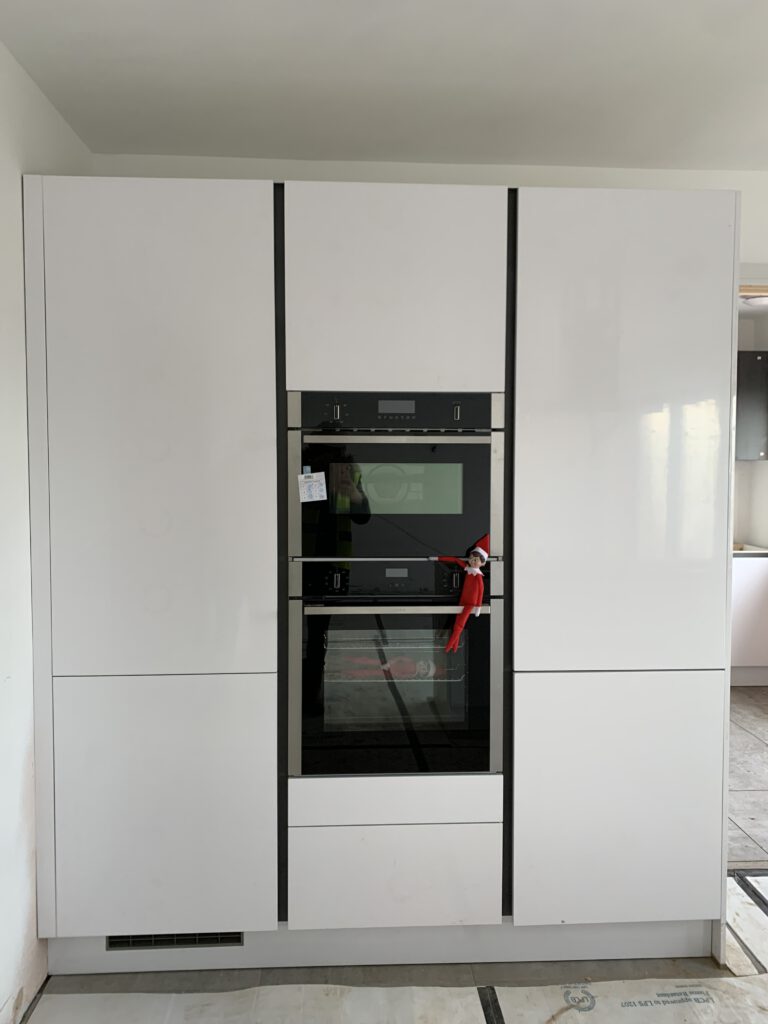 Finally, in February we planned to celebrate Valentine's Day and Pancake Day with more silly photoshoots, but suddenly talk turned to closing the site because of a global pandemic that was threatening us all.
Our new canal-side homes were almost complete, but suddenly the builders had to go home and work was completely halted. This was a massive blow to us and our excited home buyers too, but we did all we could to get things back on track.
Finally, as restrictions lifted, the Heron's View site came back to life and our houses began to look like beautiful new homes! Our first buyers moved in at the end of May after a patient 53 week wait, and the work was almost complete!
We have so many people to thank for their hard work, dedication and patience with our first new home development. It's been one hell of a journey and we have loved to share it with you, our faithful readers!
This is just the first of many new builds and we will have a new journey in Studley, Warwickshire to begin sharing very soon.  In the meantime, check out our Facebook and Instagram pages for exclusive insights into these stunning, contemporary new homes in Shirley.  Make sure to sign up for our mailing list for exclusive news and notice of our future developments at least 2 weeks before we tell anyone else!
Thanks for reading, we hope you have enjoyed the story of Greenway Close.  We can't wait to start the next one soon!
To book a viewing or find out about any of our new homes in Warwickshire, or Birmingham contact us directly on 0121 330 1768 or 0121 330 1769. You can email enquiries@kingsleahomes.com or visit http://kingsleahomes.com/bookavisit/