This Week from Village Walk: We're Raising the Roof!

Wow it's been an exciting few weeks hasn't it? The clocks changed to British Summer Time, the lockdown rules started to lift, summer arrived, and then disappeared again… we can hardly keep up!
Luckily, we took advantage of the glorious sunshine to head over and see how our new build homes in Studley are progressing. We have so much to tell you about all the action this week from Village Walk. So let's go, go, go!
NINE New Build Homes
We are not sure what their secret is, but our construction team have made an amazing amount of progress on the build. When we left you a few short weeks ago, we had foundations, floors and the beginnings of walls. And now? We have nine new build homes with spaces for doors and windows – and even roofs. Yay!
Just look at Plots 2 and 1 (pictured on the left, L-R) and Plot 5 (pictured on the right, from the rear of the property)! They are looking fantastic, would you agree?
the only way is up, baby!
While we were taking these pictures to share with you guys, something exciting happened! A delivery of roof trusses arrived to the site! Roof trusses are the pre-constructed timber roof frames which provide the structure and support for the roof of a building so once these are put in place, each roof can be covered and tiled. This is when each plot really begins to look like a house! We know you like to see everything, so we got a few shots of the trusses arriving for you too!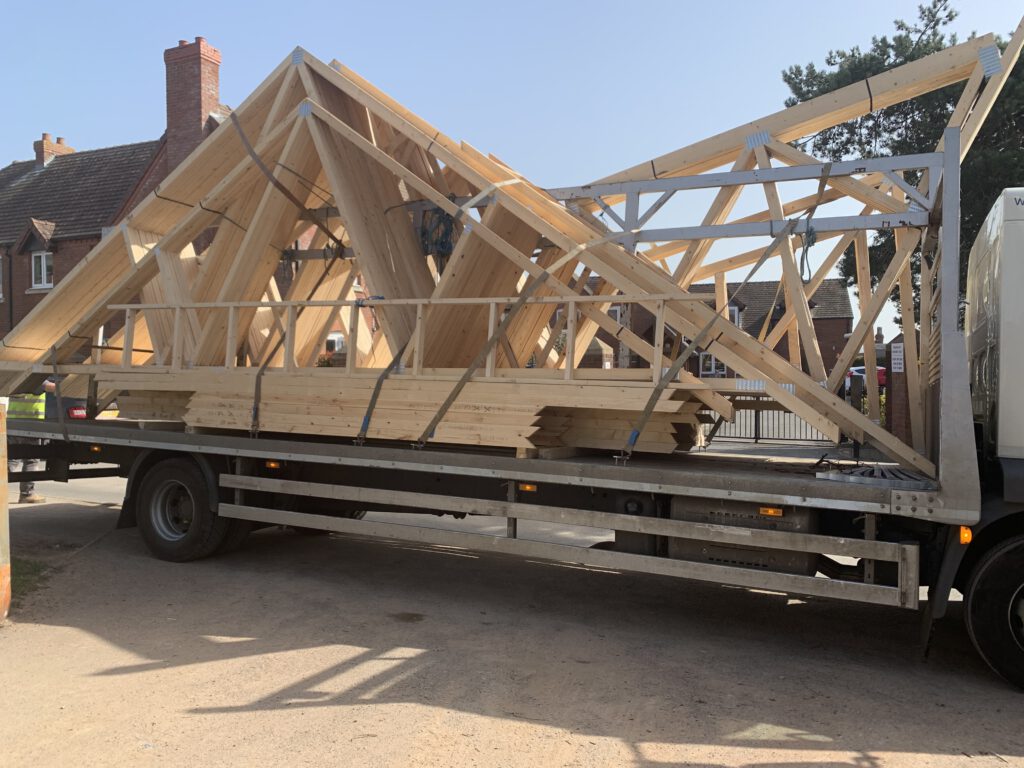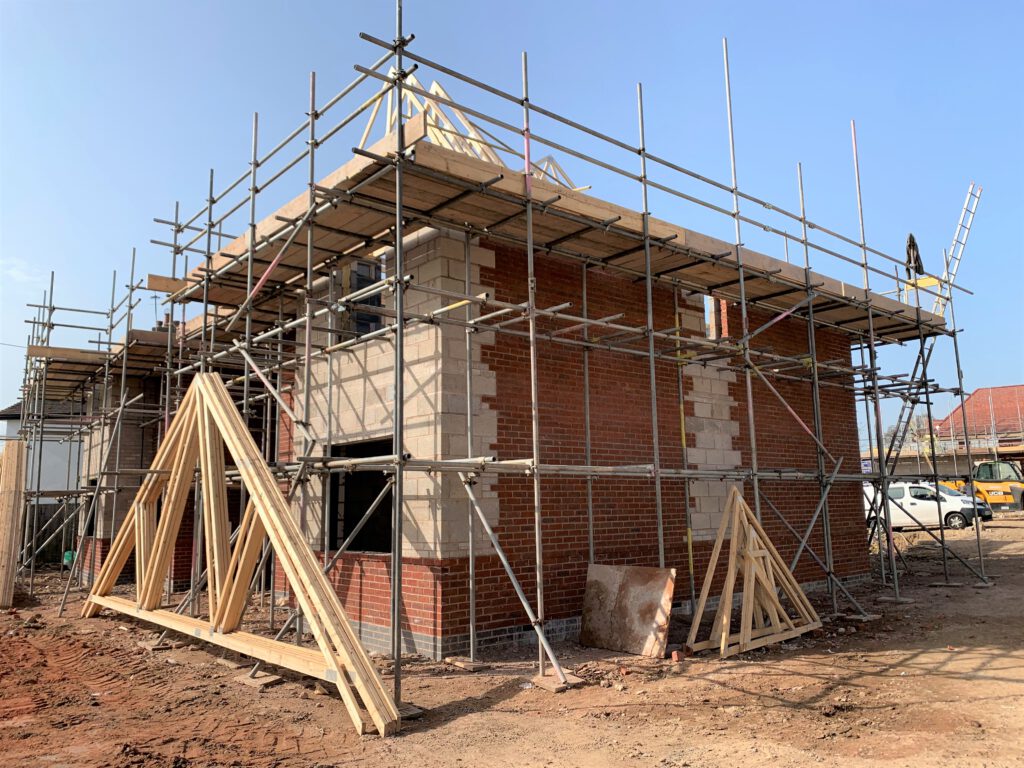 Village Life is the Best Life!
We always say that the best time to be on a construction site is when the sun is shining, and this could not have been more true this week! As we stood in the rear gardens of Plots 3, 4 and 5 we couldn't help but admire the surroundings. These new homes in Studley will be right at the heart of the village with a recreation ground, and leisure centre all just a stone's throw away. Not to mention the local GP surgery, pharmacy, schools and shops! What a great place to live! Our Village Walk homeowners are a lucky bunch!
These shots show the rear of Plots 3, 4 and 4 – just look at that beautiful brickwork which makes each property look unique!
We also had a little peek through the window of Plot 5, those rooms are a good size! We can't wait to see them develop.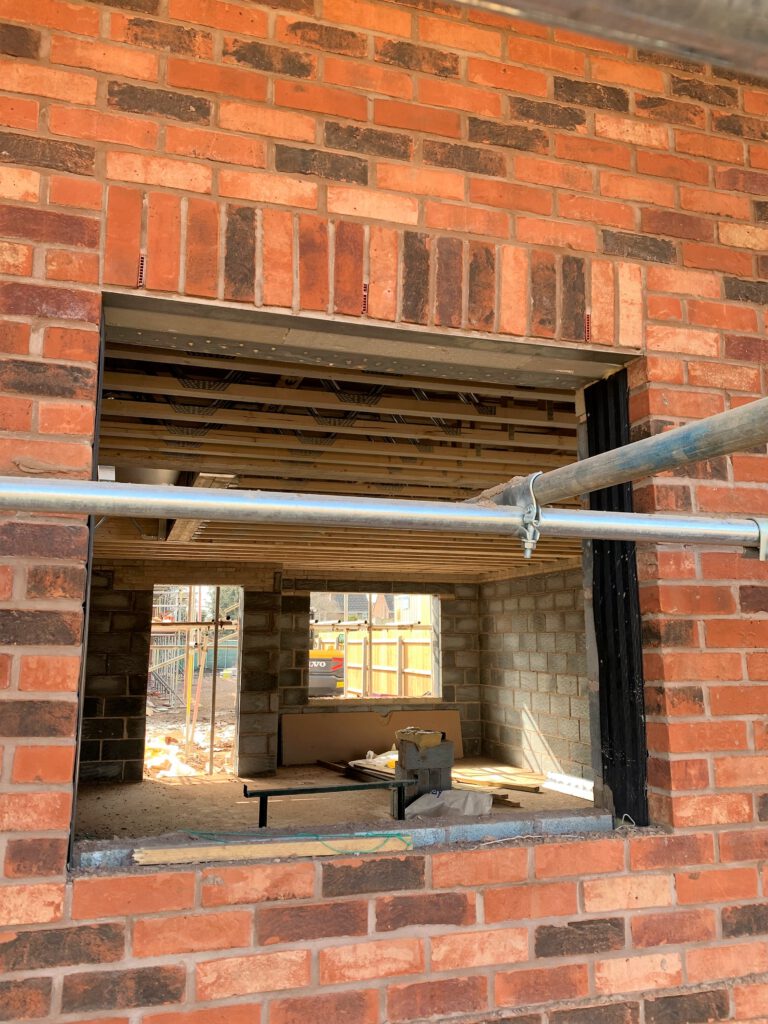 So, What's Next for Our New Build Homes?
Over the next few weeks we are looking forward to more exciting changes at Village Walk. Providing the weather is on our side by next week Plots 1 and 2 will have their roof trusses in place, and the remaining Plots 3, 4, 5, 6, 7, 8, and 9 will follow shortly after. Now that is progress!
So for now we had better leave you to enjoy your weekend, and let our guys get on with their build! If you would like more exclusive Kingslea Homes news straight to your inbox (including advance notice of our new homes for sale) make sure you subscribe to our mailing list before you go – just click here.
You can also follow us on Facebook and Instagram.
See you soon guys!