This Week from Village Walk: Run for Cover!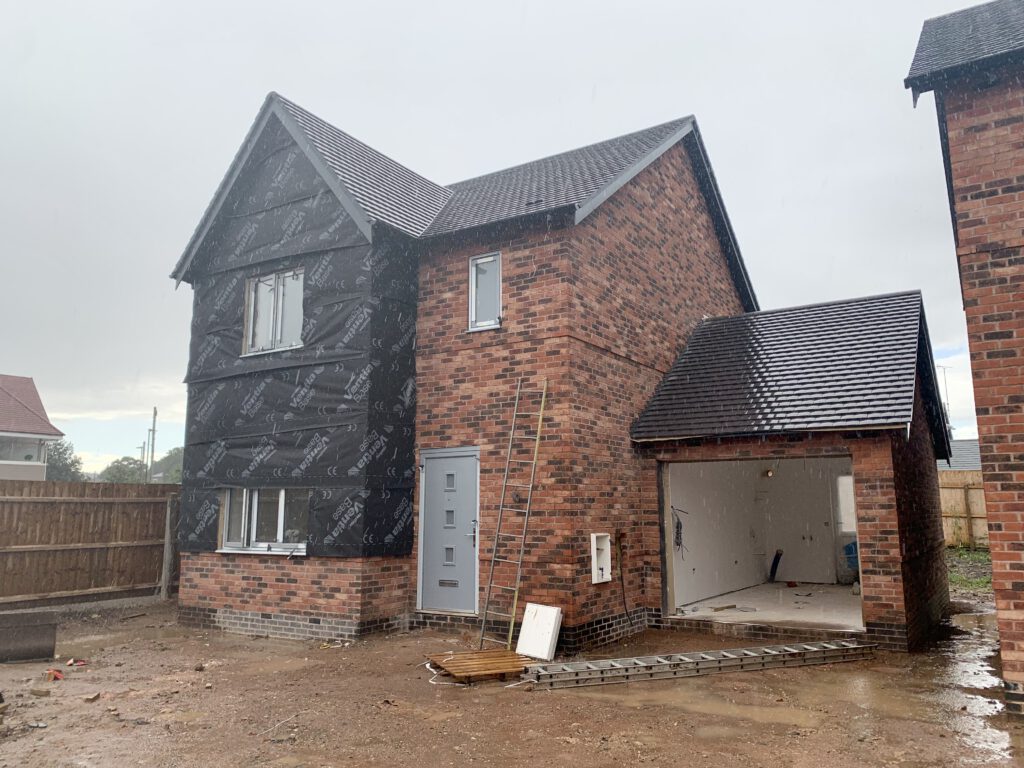 After the blistering sunshine of last week, the great British summer weather returned to its unpredictable self this week so our team was very pleased to move the work indoors to escape the downpours!
It has been a very busy few days at the site of our new homes in Studley and while the sun was still shining, the external cladding work has continued across our 9 new builds. Below left shows the cladding on Plots 9 and 8, and below right shows Plots 7 and 6, and Plots 5, 4, and 3 behind.
We absolutely love how the darker tone of the cladding compliments the multi-coloured brickwork – what do you think?
Meanwhile, indoors….
The interiors of our new homes in Studley have been a frenzy of activity! The plastering is complete, the first coat of paint has dried, and the skirting boards are in place! The pictures below were taken inside the master bedroom of Plot 5.
Off plan buyers, we like your style!
All of our 9 new build homes in Studley have now been sold off plan. Being an off plan buyer with Kingslea Homes means that you are involved with your new build journey from the very beginning – and you even get an opportunity to make some key choices for interiors of your home too! Our new home buyers have chosen their kitchen floor tiles, and bathroom tiles – and we love the options they have selected! We will be sharing more of these with you soon!
Things are heating up!
It might be the middle of summer now, but our new homes are all set for the chilly winter months as the heating has been installed in all 9 properties – check out those beautiful new boilers in Plot 1!
Run for cover!
Dodging the storms hasn't been a problem here at Village Walk – we have been hiding out in the amazing detached garages for Plots 1 and 2!
Come back sunshine!
When the sunshine returns, our lucky new homeowners will be able to welcome it inside, thanks to their fantastic bi-fold doors. Just imagine relaxing with a morning coffee as the sun streams in, or enjoying a cheeky glass of wine as you watch the sun sink low! Perfection!
That's all we have time for today guys! If you enjoyed your whistlestop tour and you would like to see more updates from us, make sure you subscribe to our mailing list and follow us on Facebook, Twitter, LinkedIn, and Instagram! See you again soon.