This Week from Village Walk: Driving Home for Christmas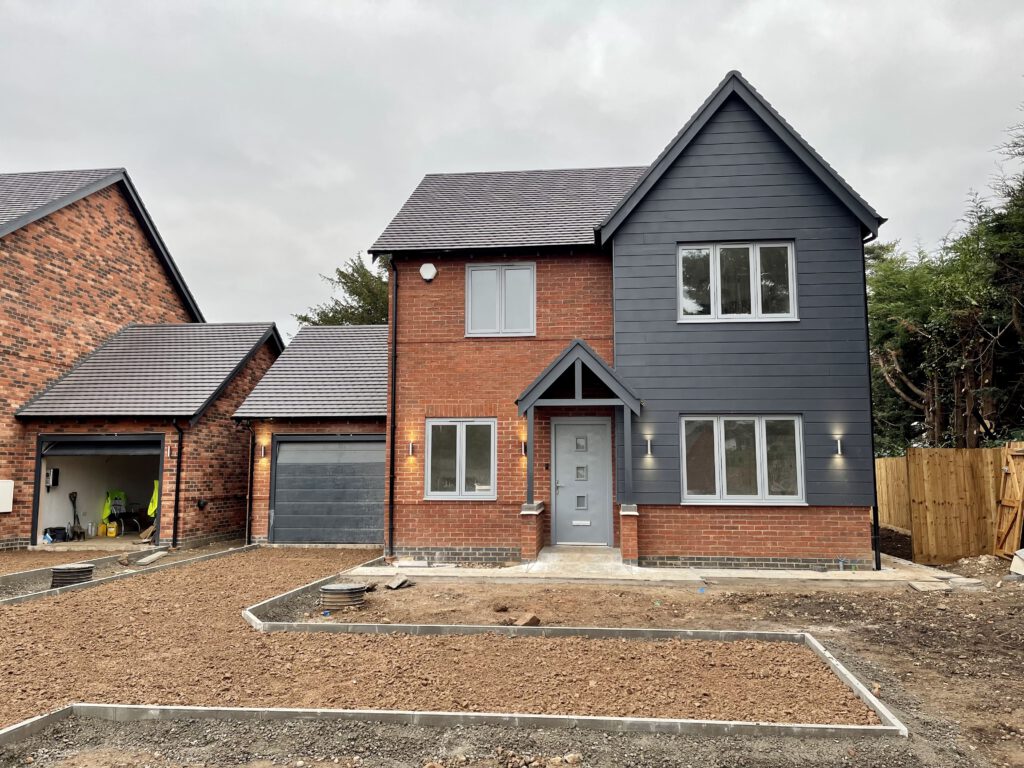 Welcome back to Village Walk guys! It's been a while since we updated you on our nine new build homes in Studley, and there is a lot to catch up on.
We've got the power!
It was tricky to bring you many updates from Village Walk whilst work was being carried out to connect our nine homes onto the grid as the site was extremely busy. Sometimes we just have to let our construction team do their thing! Village Walk is now connected to mains electric, water, and gas which is a major development, so work can begin on laying the tarmac into our brand new cul-de-sac – yay!
Chock-a-Block!
This is a really exciting time on our site because work is well underway on laying down our block paved driveways! Now we can really see the transition from a construction site into a new home development. What do you think?
Fab Slabs!
Meanwhile…. we haven't forgotten about the back gardens! All Kingslea MIA properties with gardens are handed over with a perfectly pre-laid lawn, outside garden tap, and even a shed – as standard! We also include a beautifully laid patio too. Our garden fences are now in place and the rear gardens are coming along very nicely. What an excellent addition to our nine new family homes! (Also, check out those bi-fold doors!!!)
Incredible Interiors
Work inside our Village Walk homes hasn't stopped either! Would you like a sneaky look at the new bathroom, kitchen, and fireplace in one of our properties? Of course you would!
WOW! Check out these newly completed bathrooms! The first 3 photographs show the master en-suite and the final shot is the main bathroom. We love the tile choices that this buyer selected – did we mention that our off-plan buyers can choose their bathroom tiling combinations too? And we have to say that they all have marvellous taste!
Before we left, we had a little look into the front living room of this property – and look what we found! Imagine snuggling up in front of this gorgeous cosy fireplace on a chilly winter's evening? Perfect!
Come back again soon!
Sorry folks, that's all we have time for today! But we are planning another visit to Village Walk very soon to see how those block-paved driveways are coming along! We hope you enjoyed our update – you can also follow us on social media for regular updates on all of our builds. Find us on Facebook, Twitter, LinkedIn, and Instagram!
And remember to subscribe to our mailing list to receive our build updates directly to your inbox. We also give our email subscribers an exclusive, advanced heads-up on our new developments before we release them to the general public. You can subscribe here.
Have a wonderful Christmas everyone – we will see you back here in Studley very soon!