This Week from The Dorma: The Only Way is Up!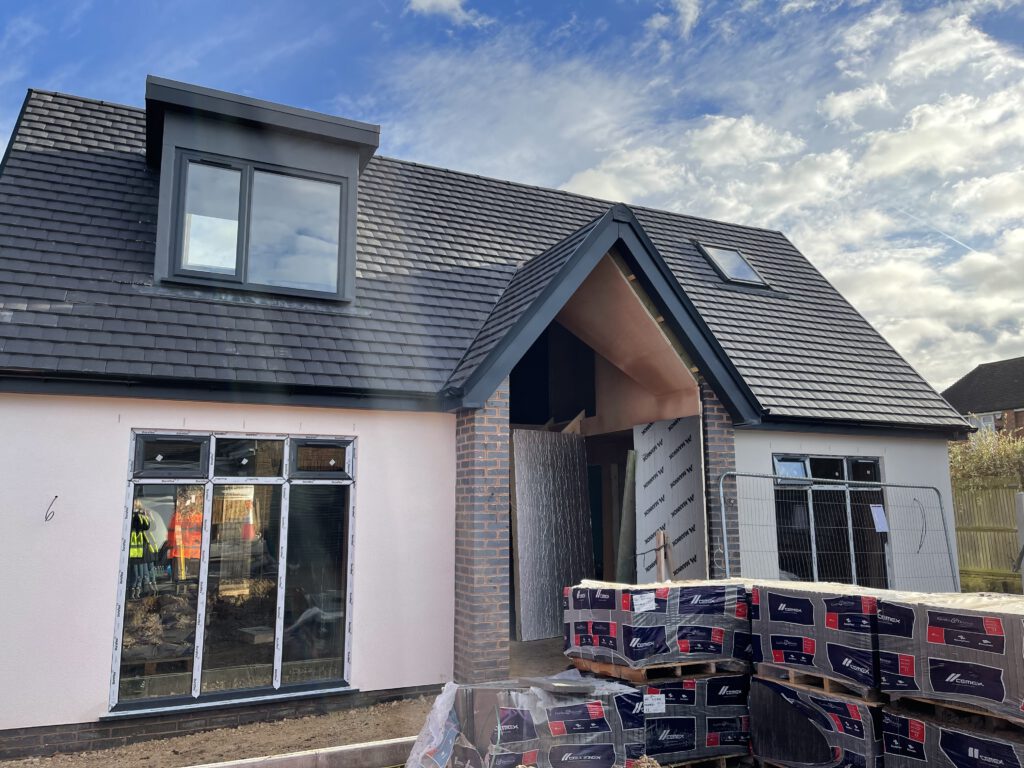 Hello lovely people! Welcome back to Solihull for another update on our shiny new build dormer bungalow – The Dorma!
This week we have powered through rain, frost and so much wind! Thank goodness the roof is completed and our beautiful new build bungalow in Solihull is watertight!
The Only Way is Up (Stairs!)
In our last blog post, we showed you a peek of The Dorma's first floor (this is a dormer bungalow, remember!) and this week we got to have a proper look around because the stairs are now in place – yay!
The Dorma's first floor consists of two spacious bedrooms and a shower room with a beautiful naturally-lit landing space thanks to the double-height cathedral-style entrance. What a feature! It is impressive from the approach and from inside The Dorma too – we love it!
Have a look at these VELUX Style Roof Windows! They are pretty amazing and will allow even more natural daylight to flood through the first floor of our dormer bungalow.
Now that the underfloor heating at The Dorma is laid, our team has been able to complete the internal plastering too! Just a few short weeks ago we were showing you a huge open space and now this dormer bungalow is really beginning to feel like a home.
Meanwhile… Outside
The unpredictable British weather has made working outside a little bit tricky this week, but that didn't stop our team from beginning work on The Dorma's soon-to-be landscaped garden! The crew waited for a dry day to prepare and lay the new patio to the rear of the bungalow. A beautifully intimate little sun-trap that will be accessed via two sets of double patio doors from the Living and Dining space, and the Master bedroom too – perfect for a morning coffee in the summer sunshine.
Whilst work was taking place in the back garden, the team made a start on the front of The Dorma too as they began the hardcore preparation for the driveway.
Book a personal site visit to view The Dorma!
Our pictures might be amazing (!) but the best way to view The Dorma's progress is with a personal site visit, and we would love to show you around our new build bungalow in Solihull. Book a personal site visit with Dean or Ash on 0121 330 1768 or book a visit via our website.
We have to leave it there but we will be back soon with another update from The Dorma! In the meantime you can follow our progress on social media. Find us on Facebook, Twitter, LinkedIn, and Instagram.