This Week from The Dorma: Take Cover! We Have a Roof!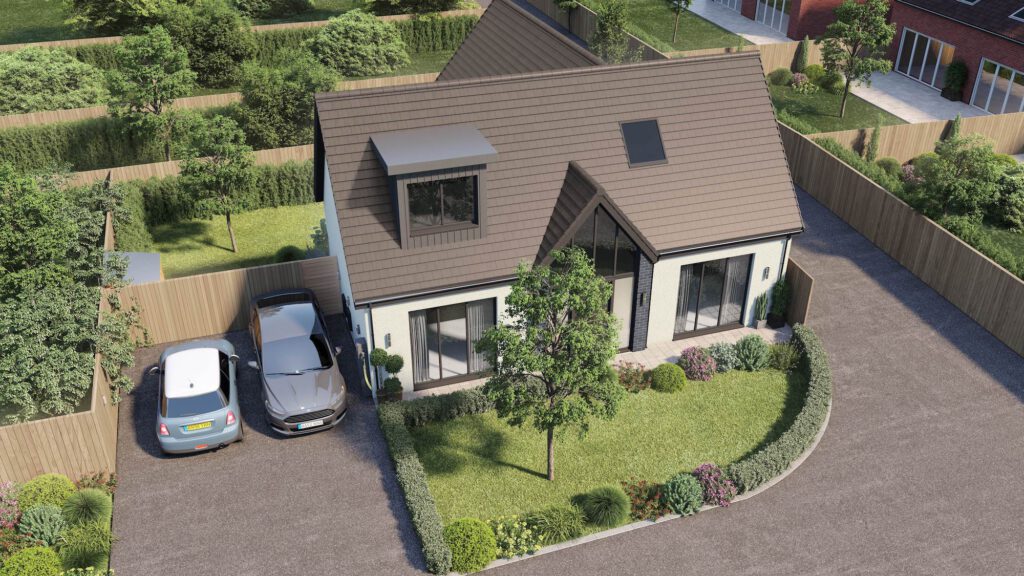 There is no holding us back now that the building of The Dorma is underway! Our new four-bedroomed, three-bathroom dormer bungalow is coming on beautifully with exciting new developments every day. Shall we take a look around? Absolutely!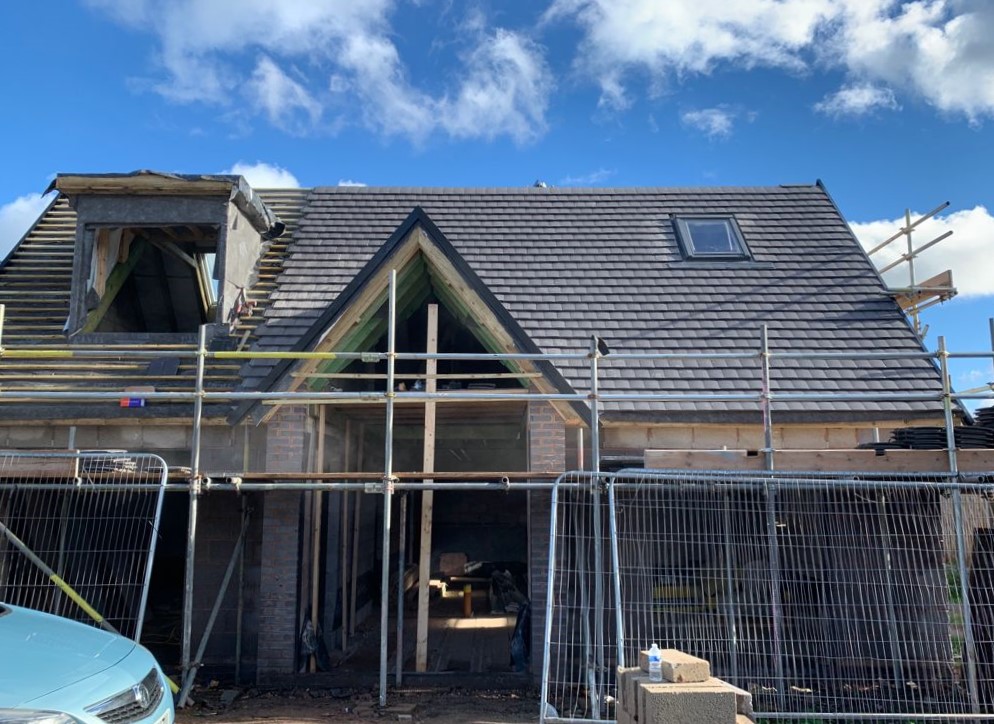 Woah, is that a roof?
Things have progressed a lot since our last update and The Dorma is already watertight with the roof fully completed! Just in time for the November downpours we have been seeing this week (phew!). The above image is taken from the front entrance to our dormer bungalow… what a welcome! The completed entrance will feature a cathedral-style glass entrance leading into a stunning atrium area with a double-height ceiling that will be flooded with natural light. Our lucky buyers will be able to welcome visitors in dramatic style – amazing!
Inside The Dorma work has begun on studding to the ground floor. Studding is the process of adding vertical supports inside the property to section out the different rooms – these timber supports will ultimately become the walls.
These images show the ground floor before (left) and after (right) the studding was put in place. Here we are looking towards the ground floor bathroom (on the right) and Bedroom 4 / Study area. We can also see the Master bedroom and what will become the Master ensuite.
Here are some more before and after images taken from the ground floor – once the studding is in place we can really see how beautifully the large ground floor areas will flow to create a spacious and very flexible living space! We can't wait to see this one completed!
What do we have here? Only a set of double doors that will lead out of the Master bedroom into The Dorma's private garden! Just imagine waking up on a sunny morning and flinging those doors open to welcome in the day, perhaps wandering out onto your bright and peaceful patio area with a cup of coffee….pure bliss! We want to move in right now!
What's Next?
The excitement at The Dorma will continue over the next week or two as the first floor of the dormer bungalow begins to take shape, we promise to keep you up to date as this happens!
We are already welcoming potential buyers to The Dorma for private site viewings. At Kingslea Homes, buying off-plan is an exciting experience because it means you are involved in the build of your brand new property from the very beginning! Not only is this a unique opportunity, but it also means that we can offer you a selection of cosmetic choices into how your finished home will look.
How would you like to choose your tiling combinations, the style of your kitchen, or the shade of your wool blend carpets? Not many new home developers can offer you so much input, but that is our speciality!
If you would like to book a site viewing at The Dorma, please contact us without delay on 0121 330 1768 or download a brochure here.
We will be back really soon with some more updates from The Dorma! Stay tuned, and don't forget to follow us on social media to keep up with our latest updates – find us on Facebook, Twitter, LinkedIn, and Instagram.
See you soon guys!