This week at Heron's View: Let's get down on the floor!
Welcome back to Heron's View, we've missed you lovely people! Are you ready to find out all the latest action from our new build homes in Shirley?
Have you ever seen the film 'Entrapment' with Catherine Zeta-Jones and Sean Connery? The one with the catsuit and the laser beams? We felt a bit like we had stepped into that scene this week (without the catsuit) when we had a peek inside Plot 7!
The luxury floor tiles were being laid in the kitchen and dining room, utility and hallway. The clever tiler used a nifty laser beam to mark out his lines and it took every ounce of our control to not try leaping over them.
These gorgeous floor tiles have been sourced from Porcelanosa, their showroom is just down the road in Shirley! What do you think? Imagine how they will feel under your feet as you wander around your beautiful new home. Cool in the summer and toasty warm in the winter, thanks to the super-cosy underfloor heating we have installed beneath. We really care about your feet!
Elsewhere in Plots 6 and 7 we had chance to admire the carpentry work as the interior doors and skirting were being added.
We also took a quick tour upstairs, including the family bathroom (look at the depth of that bathtub – bubbles galore!) and the master bedroom (lots of fitted wardrobe space for the sharp suits and designer dresses you'll be picking up from Touchwood or the Bullring)!
Before we left, we bumped into Graham, who was hard at work on his Excavator – it's mandatory to smile for a picture when you work at Heron's View. We're all happy workers here!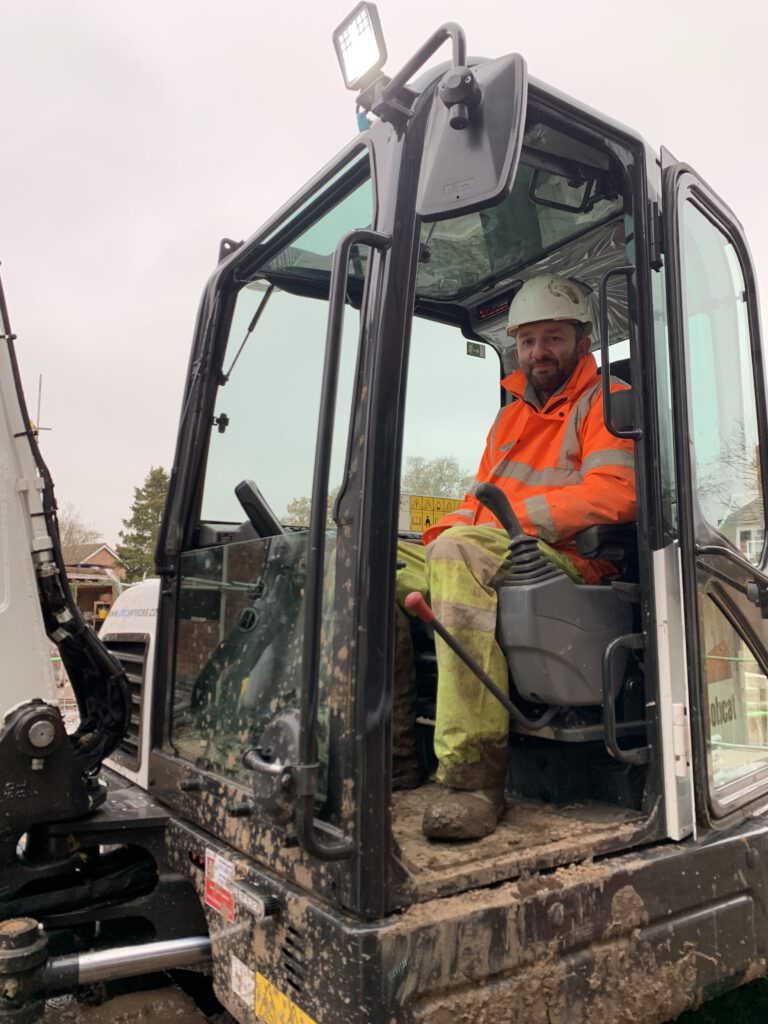 That's all for now, next time we'll have something even more exciting to show you… the kitchens are coming. More on that soon!
If you would like to arrange a viewing at Heron's View for yourself or you would like to download a brochure for a closer look please get in touch! We have only a few plots remaining so don't wait!